---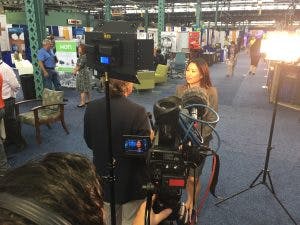 For a moment, let's not talk about the power of video messaging. (We'll get back around to it.)
When you own a business— large or small— the days are never long enough. Time management is always critical. Whether your business is paper shredding, pest control, phone sales or equipment repair, growth doesn't just happen because you're the best in the biz. Sure, you possess an in-demand product or aspecialized skill, but, as they say in the forest, a falling tree doesn't make noise if nobody hears it.
Getting on the radar of potential customers isn't always easy considering they have their own time-management issues. Such was the complaint vendors across the Mid-Atlantic states had in trying to connect face-to-face with the decision-makers who buy goods and services for the Commonwealth of Pennsylvania.
Thus, the Pennsylvania Procurement Expo & Forum was born: a two-day, meet-and-greet, handshaking, "here's-what-I-can-do-for-you" vendor-meet-buyer event in Harrisburg. Hundreds of vendors— from family-owned businesses to billion dollar companies— shook hands with prospective purchasers, the end-users across state and local governments, school districts, public authorities and non-profit agencies. Among them: paper shredders, pest controllers, phone sellers and equipment repairers. Some things never change; there's still no substitute for face-to-face networking.
Focus Media Services was asked to produce the promotional video for the event; a compelling story that will drive vendors and purchasers to next year's expo.
Okay, the moment is up. An engaging video message will do that. It truly is the next best thing to a handshake.
---
Philadelphia-Based Video Production Services, Serving Clients Nationwide
24 Veterans Square, Media, PA 19063 | 610.744.2521
Copyright © 2017 Focus Media Services. All rights reserved worldwide.
Web Design
by Media Proper.